The villa offers three bedrooms coloured with the three elements of Sky, Water, Earth. The gorgeous blue Kamini and the earthy yellow and white Champa on the ground floor. And Sachchidananda on the upper floor; done-up in warm hues of red, orange and coral, complete with a walk-in closet and a lovely balcony, where one can sip a morning cuppa while watching its white drapes billow in the breeze.
Common to all three are mesmerising mosaic flooring and window-seat enclosures. The property exudes a meditative and soulful atmosphere with spiritual paintings and sculptures as well as two fully stacked bookshelves. The large living room is an ideal place to host workshops, yoga classes, dinner parties, as well as yoga & Ayurvedic retreats.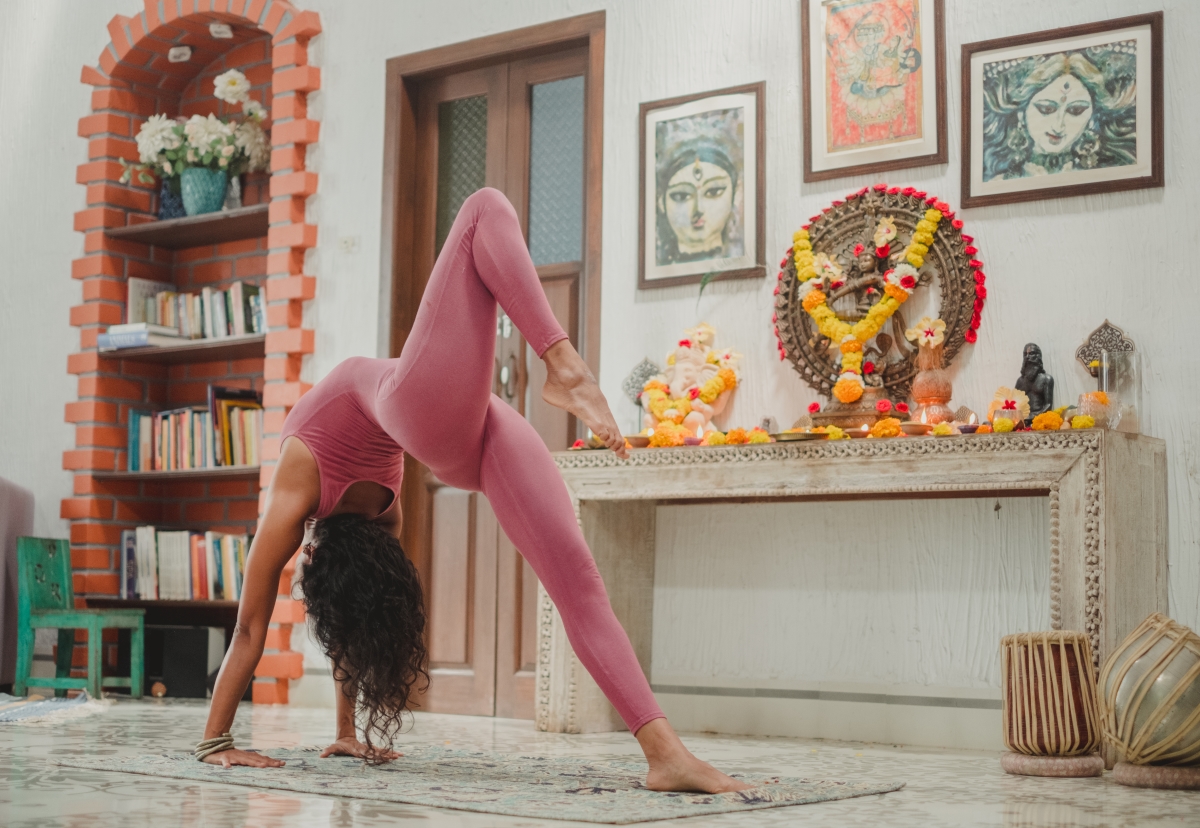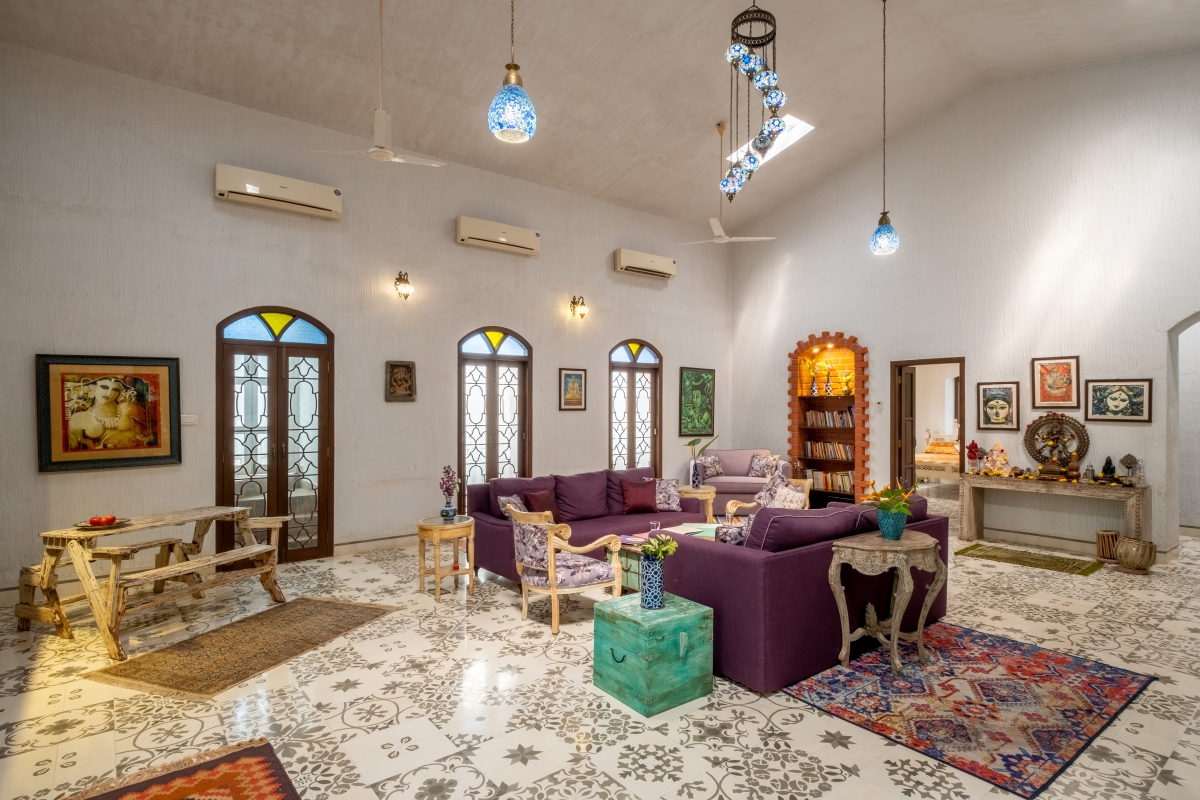 Plunge into an oasis of peace away from the stress of city life. Sit back and chill out with a book, take a yoga class, make an appointment with one of our amazing massage therapists, or lounge the afternoon away by the pool. Feel cut-off without actually being far from the bustling party scene in Goa, should you wish to step out and dance the night away. Come experience a different take on traditional Goan susegado.
Named after the divine Ginger or Garland Lily flower and decorated in tones of red, the beautiful SATCHIDANANDA suite has a private entrance on the first floor, ensuring complete privacy for its occupants. The balcony boasts of a spectacular panoramic view; enjoy a glass of wine and retreat into the peaceful, cocoon we offer you. If you wish for a meal, massage or yoga class, we are more than happy to offer it in your private space.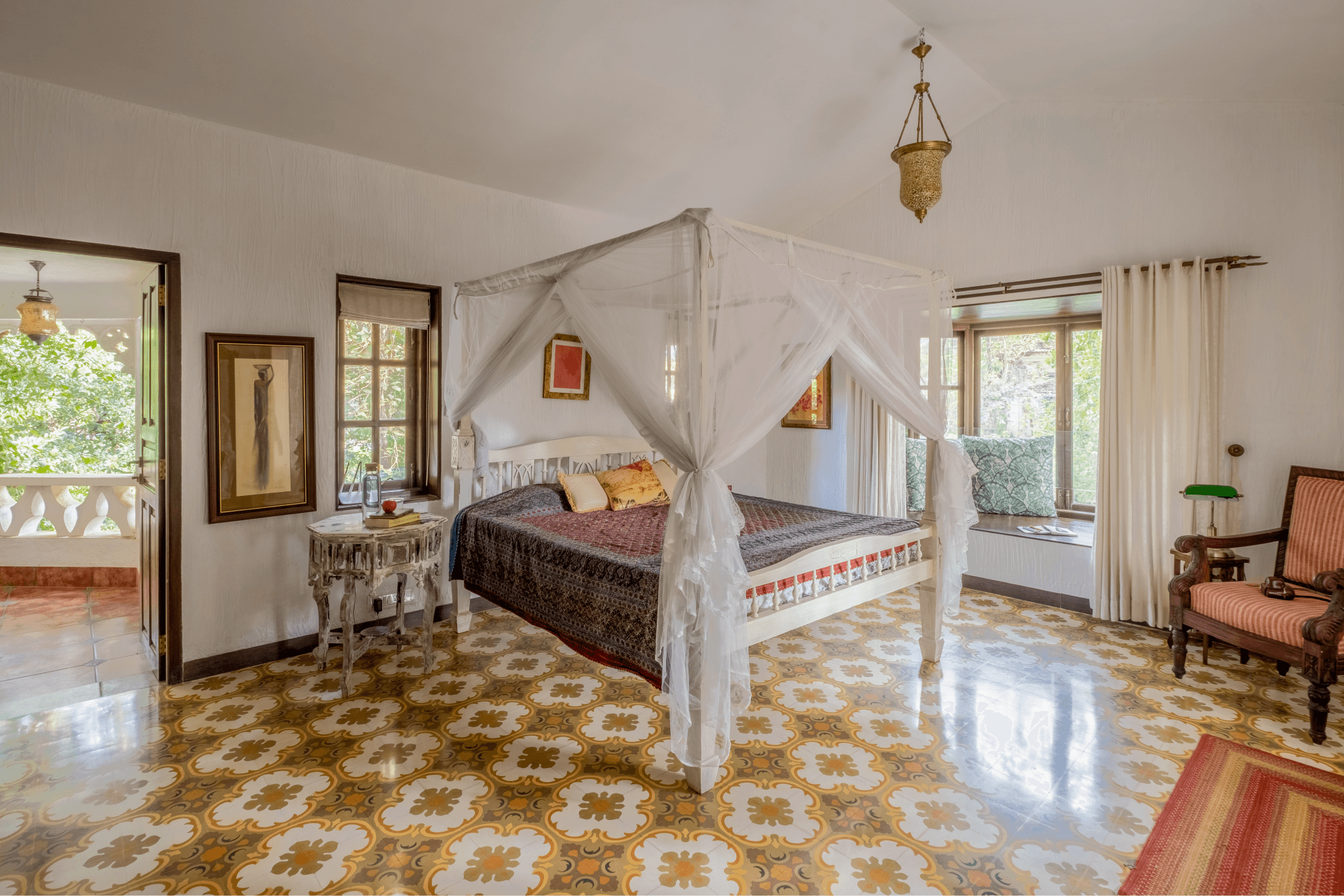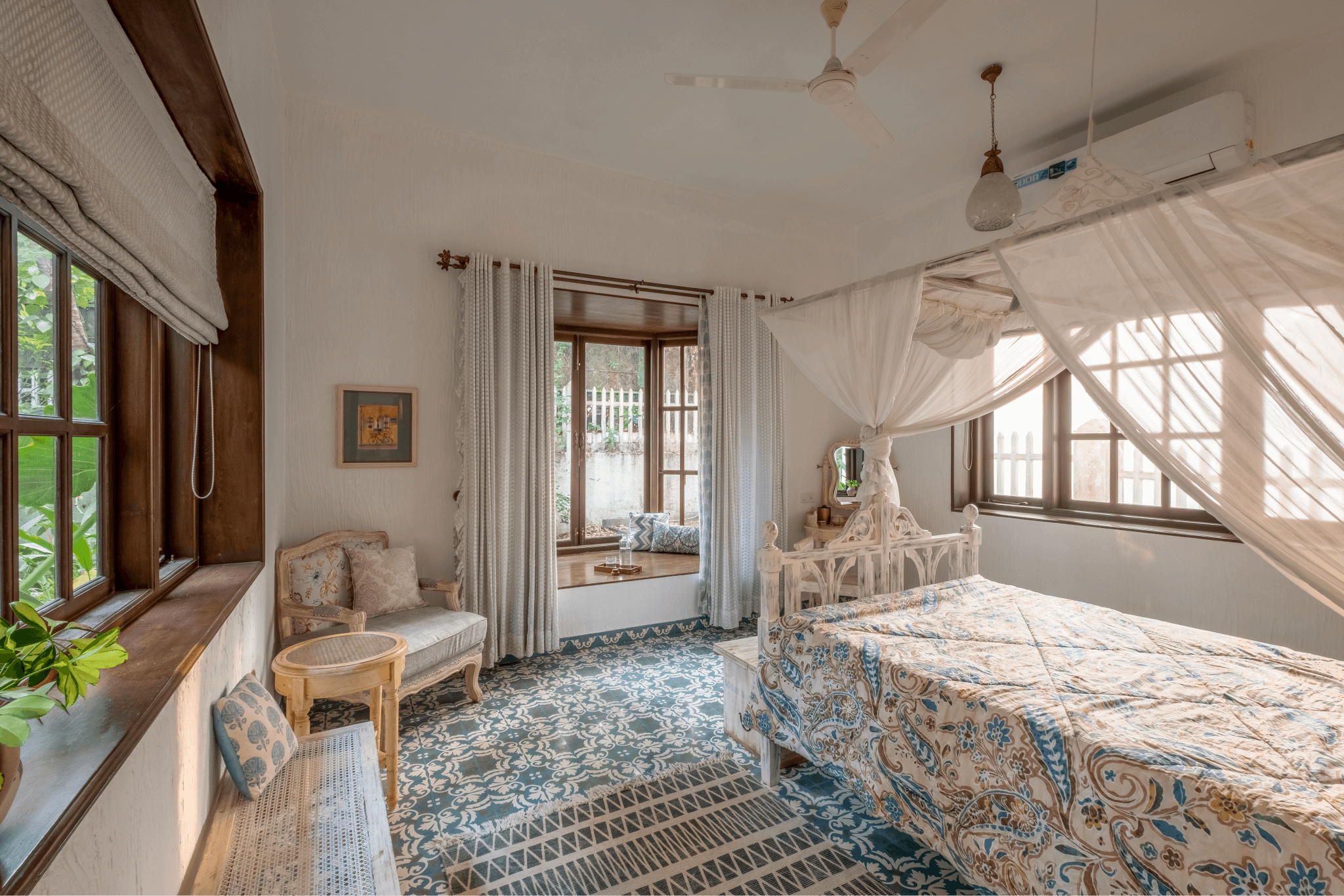 One of two ground floor bedrooms named after the orange jessamine flower which grows abundantly in our garden; KAMINI is decorated in a calming combination of white and blue. We recommend checking out the wooden bay window, outfitted with comfy cushions, it makes for an excellent reading nook or an inspirational space for daydreaming.
One of two ground floor bedrooms inspired by beautiful frangipani flowers, CHAMPA with its warm, earthy tones is decorated in shades of yellow and brown that catch the early morning light beautifully. With direct access to the verandah, this room is perfect for early morning birds.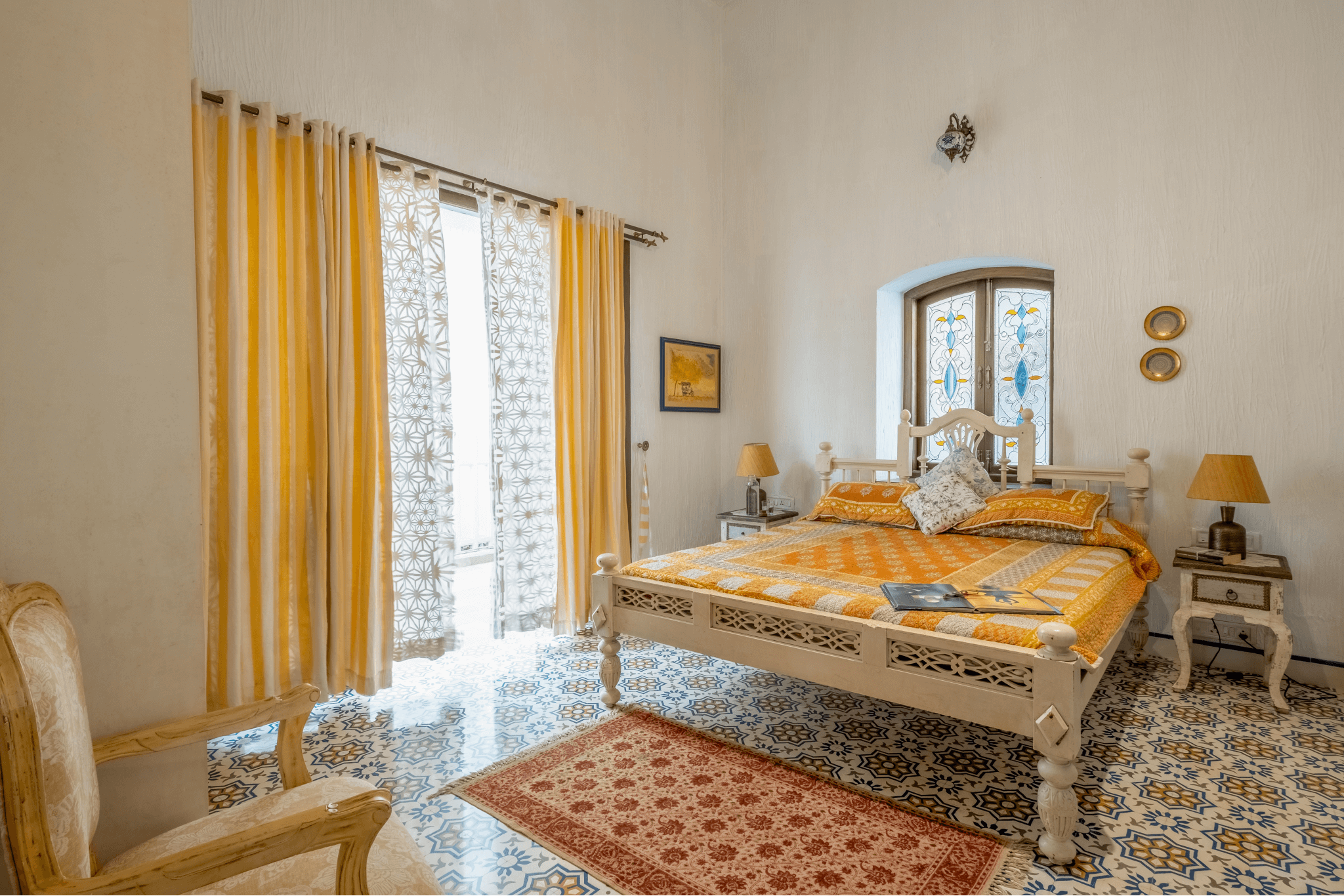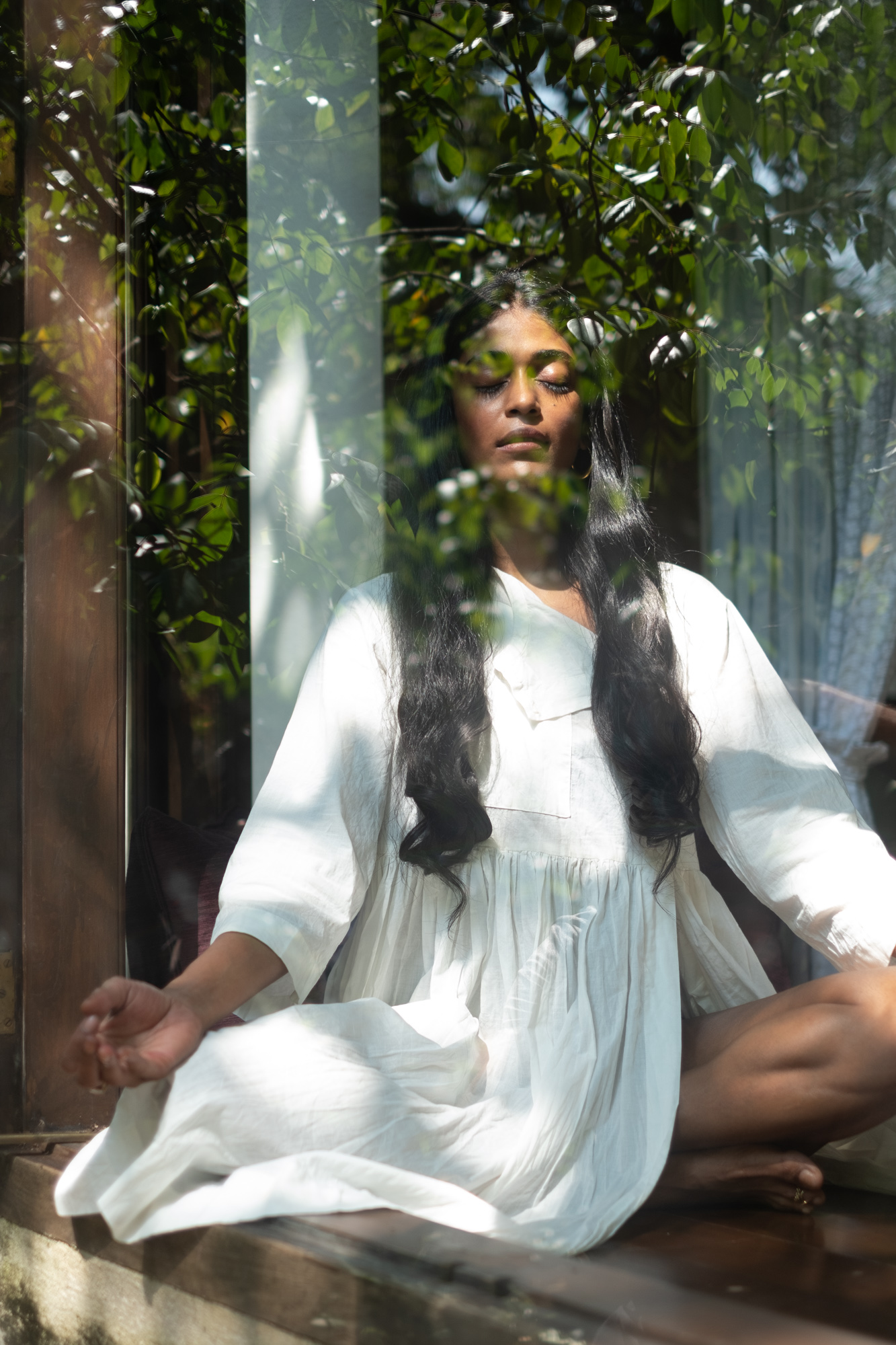 Frequently asked questions
Introducing our vision, our dream of what we want to offer to this new world; an offering of sustainability, of compassion, of protecting nature, of equality, of healing.
Sign-up to receive exclusive discounts and offers. Be a part of our Inner Circle!